Marsh Mansion:
An Historic Home in Your Backyard
By Irene Vlitos-Rowe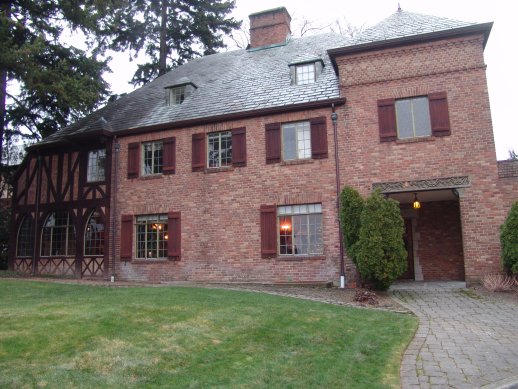 Kirkland's historic Marsh Mansion opened its doors to the Kirkland Heritage Society's (KHS) members on Sunday, December 13 for the Cookie Exchange—an annual opportunity to mingle with like-minded neighbors who are passionate about history, preservation …and (most important for some) cookies.
We were greeted by the current tenants, Tim and Gina Morton, and owner, Paul Barry, who bought this house over three years ago. As we toured the house with Barry (see below), it soon became apparent that he took great efforts to painstakingly restore this 1929 home to its former grandeur.
Architectural Significance
Listed on the National Register of Historic Places in 1989, Marsh Mansion (also known as the Louis Marsh House) is one of the most architecturally significant residences along the eastern shore of Lake Washington.
In 1929, Louis Marsh commissioned the Seattle architect Edwin Ivey to design a home on his family's Kirkland property, which extended from the lake to the railroad tracks in Lakeview. The result was the large two and one-half story brick French Eclectic Revival style mansion that we see today at 6604 Lake Washington Boulevard.
Apart from being an important example of the suburban period revival styles of the era, and one of the few remnants of Kirkland's early history, the home is also closely tied with the life of one man— Louis S. Marsh.
Meet Louis S. Marsh
Born in Neillsville, Wisconsin in 1892, Marsh moved to Washington in 1905 when the original Marsh family home (now demolished) was built. He attended school in Kirkland and at Seattle's Broadway High School before entering the University of Washington, where he studied mechanical engineering. In 1917, he joined the Boeing Aircraft Company and worked on the Model C twin-float seaplane—the company's first production contract.
Marsh was one of Boeing's first three engineers and became a leader in the field of physical metallurgy. As Boeing's chief metallurgist, he played a key role in many of the metallurgical breakthroughs that culminated in Boeing's strong presence in the aviation industry.
"Marsh," as Lynette Friberg, KHS's past President explains,"was one of the seven pioneers of the aviation industry. He is really the reason we are flying in planes structured as they are." Marsh continued to work for Boeing until 1945, when he retired.
Marsh remained active throughout his retirement, with a wide range of interests including the Seattle Opera, Seattle Ballet, Seattle Symphony, Children's Hospital, the University of Washington, the Kirkland Senior Center and St. John's Episcopal Church. He donated 300 feet of waterfront to the city for use as a park and, upon his death in 1980, bequeathed his home to the Children's Home Society.
Join the Tour
Although space prohibits a comprehensive description of each room (and there were many in this over 8,000 square foot house), there were a number of interesting tidbits of information, which included: textured Marsh brick on the exterior walls; 18 inch thick walls, which makes the house cool in the summer and warm in the winter; handmade copper gutters; a fully functional but unfinished basement where Marsh had one of two shooting galleries (the other one was in a room upstairs) and space for coal, drying fruit, a darkroom, metal shop and wine cellar.
There are original fixtures throughout the house, such as the original built-in screens on the lead lined windows; hand carved wood paneling; a call button on the dining room floor for maid service; door handles and hinges that still work after 80 years; brightly colored hand fired bathroom tiles; and even a built in ironing board in the sewing room.
At the conclusion of the tour, Barry asked us to guess which room was the original Master Bedroom. As we were standing in what seemed to be the largest room with the best view of the lake, I assumed that we were in it,as did some of the other visitors. Well… we were wrong. The original Master was a back east-facing room with a sleeping porch (now enclosed).
As Barry explained, in those days sleeping out in the open was considered good for one's constitution—particularly if you feared contracting tuberculosis. In addition, a lake view was not considered the priority that it is today…another eye opener into a past world.
So if, like me, you often drive or walk your dog along Lake Washington Boulevard take some time to stop and reminisce. Look at the mansion, think about a man who was a pioneer in his field, and about an Englishman who, as he explains, bought this house "on a whim" because "being English, I loved it!" It is thanks to people like Paul Barry, and the KHS volunteers, that neighborhood history is being kept alive for future generations.
Sources: National Register of Historic Places Registration Form, United States Department of the Interior, National Park Service; Kirkland Heritage Society: Lynette Friberg, Loita & Dale Hawkinson; Marsh (Un) Commons, Kirkland Courier, August 1,1996.
Irene Vlitos-Rowe lives in Kirkland and is contributing history articles on behalf of The Kirkland Heritage Society. Contact her at irene@kirklandheritage.com
©2009 - Irene Vlitos-Rowe