Being Resourceful in Hard Times—
Kirkland's Answer to the Great Depression
By Irene Vlitos-Rowe
By the time the first benefit dance was held in Juanita Park Pavilion on February 18, 1933, the world was in the throes of a deep depression. The US stock market had crashed in 1929, and the Smoot-Hawley Act of 1930—a measure that increased tariff barriers to protect American-made goods— resulted in protectionist retaliation around the world.
Although these events took their toll on communities across America, Kirkland may have weathered the storm better than most. As Mrs. Dorris Beecher (Forbes) recounts in an oral history: "I don't think it (the depression) affected us nearly as much as people in the Midwest, the East, because most of us had … chickens, cows, pigs." For some Kirkland families, there was always food on the table.
But this did not mean that our neighborhoods were immune from the country's economic woes. Many struggled, and it was thanks to such organizations as the East Side Association of Unemployed that our community developed an imaginative and resourceful answer to the new challenges.
East Side Association of Unemployed
As there was no organized local effort to help the unemployed at the onset of the depression, some residents took it upon themselves to address the issue. In June 1932, about 100 men met at Kirkland Hall and agreed on a plan to establish a permanent organization of Kirkland's unemployed.
The meeting was called to order by O.E. Nordstrom, chairman of the relief committee, who explained that although this new organization would cooperate with existing agencies it would not be affiliated with any statewide organization. According to its Statement of Purpose, the group was primarily associated to assist others in obtaining employment and other aid through cooperative policies.
There were no shortage of inventive ideas for these policies. Several tracts of land were already available to raise foodstuffs, such as potatoes, and the committee had permission to cut wood for winter fuel on two different tracts of land.
We know that this organization struck a chord with the local community because over 150 people attended its second meeting, and it acquired an additional 50 members. Its creative energy was on a roll. Several acres were already under cultivation and planted into a community garden, trips to Eastern Washington were planned to pick fruits, and the Red Cross agreed to provide employment on a rotation basis so that as many people as possible could benefit.
10 Cent Dances and Free Movies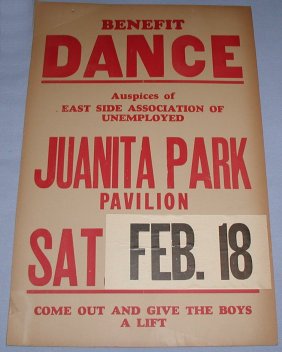 But it was not all work. A series of "10 cent dances" were planned at the Juanita Park Pavilion, together with a good five-piece orchestra, to "give the boys a lift." The proceeds went to the Association.
And then there were the movies. The management of the Gateway Theatre gave the relief committee free weekly passes to their shows. In December 1932, for example, unemployed families were encouraged to enjoy the festivities of the Christmas holidays by attending a special showing of "the talking picture" Sherlock Holmes.
(2007-2-21)
Benefit Dance Poster, 1933.
Uncle Sam's Turn
In June 1934, the Association celebrated its second anniversary, but within a few months it was disbanded. Although slow to implement the first initiative, the federal government had finally taken over the whole program and there was no longer a need for a separate relief group.
The East Side Association of Unemployed had done a stellar job for over the past two years. It had identified and met the urgent need for groups of unemployed to unite for their mutual benefits. The organization ensured that unemployed families had food on their tables, the occasional opportunity to work for a living wage and a means of social contact.
During its life, the Association was led by O.E. Nordstrom as president, with J. Dresen as secretary. These men achieved a lot but it is unlikely that they could have done this without the enthusiastic support of their organization's members and a local community intent on making a difference.
Sources: Kirkland Heritage Society; The East Side Journal; and The Great Crash. How the Stock Market Crash of 1929 Plunged the World into Depression, Selwyn Parker.
A version of this article appeared in the Kirkland Reporter on January 14, 2009.
©2009 - Irene Vlitos-Rowe