Fourth of July—
From picnics and orations to blackouts and fireworks
By Irene Vlitos-Rowe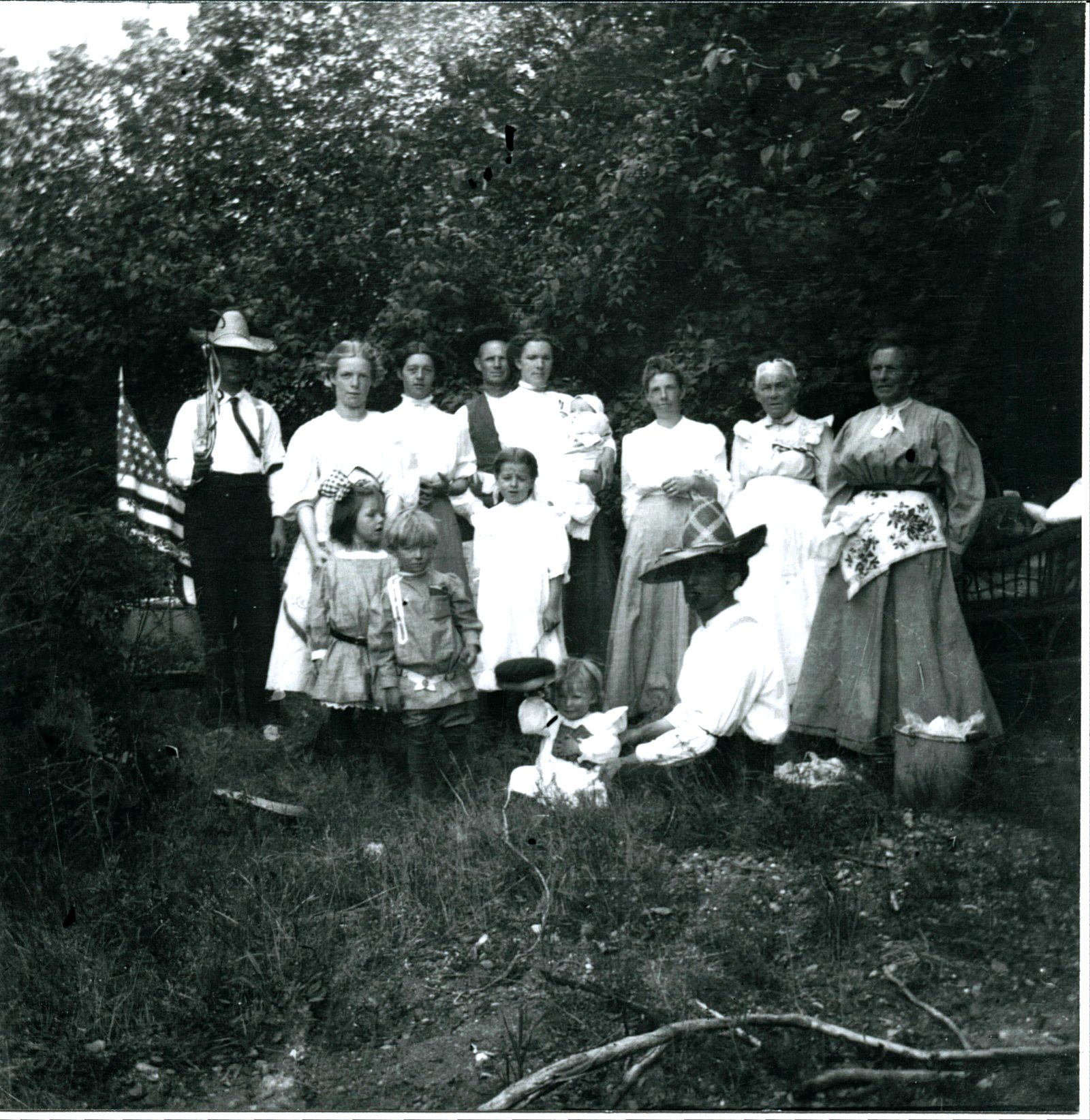 On the Fourth of July, 1881, Harry D. French (one of Kirkland's earliest settlers) had a picnic. He was joined on the beach by Reverend Ellis and his wife and, as he notes in his journal, "several others from Seattle."
A picnic was usually a time for celebration, but this wasn't a day for rejoicing. Harry writes that President Garfield was shot on the 2nd and is "mortally wounded." Little did he know that the President would eventually die from the assassin's bullet in September.
Although Harry does not mention the Fourth of July again, this popular and patriotic holiday continued to be celebrated in Kirkland for years to come. However, as a review of The East Side Journal highlights, Independence Day (its official name) has undergone subtle changes of emphasis over the past few decades—from primarily a picnic with family and friends, Fourth of July Orations, contests and speeches, to elaborate parades and increasingly sophisticated fireworks.
The Barrie family celebrate Independence Day in Kirkland c 1911 (2005.3.22)
Fever Pitch
On June 5, 1919, it was front page news. The East Side Journal readers could look forward to the biggest Fourth of July celebration ever staged on the East Side. Apart from the obligatory parade, oration, and fireworks, the day would include a program of music, dance, water sports, log rolling and pie eating contests. There would even be a race between fat men and fat women, and a ball game between married men in Redmond and Kirkland. The prizes would be better than ever, and it was proposed that up to $600 could be raised to defray costs.
This was serious business. An executive committee would supervise the plans of the day, with other appointed committees covering the full gamut of activities. By June 12, Kirkland had the Fourth of July fever, the publicity committee was "telling the world" about the big time ahead and large posters were being displayed across the country. In the end, about 4,000 people attended the event, and it was heralded as a huge success.
Fast forward to July 4, 1934, and the pleasure-seeking crowds had swelled to 7,000—a record for the Juanita beaches or, as one journalist described them, "the Eastside's miniature Coney Island." It was a day of picnicking, swimming and patronizing the various concessions.
Warning Signs
But by July 2, 1936 there were words of caution from Dr. Coffey, Washington State Director of Health, and a sense that this may have been the beginning of what was to become a perennial debate on fireworks safety. Dr. Coffey warned The East Side Journal readers that burns and wounds from firecrackers were dangerous and should be given immediate attention by a physician.
In 1937, plans were underway to enforce a city ordinance to prohibit fireworks within 500 feet of the ferry dock. "This ordinance," Mayor Jaycox said, "has to be strictly enforced because there are several wooden structures around the ferry corner and … the hazard is too great to allow the ordinance to be violated."
Within a few years, the same old Fourth of July would become a different kind of celebration…
Wartime Blackouts and Shortages
Shortly after the U.S. entered the war on December 8, 1941, the City of Kirkland issued Ordinance No. 456. This pertained to national defense and introduced blackouts "during the existence of a state of war with any foreign power."
There would be no fireworks. But that wasn't the only difference. Although some people would continue to have picnics, go on fishing trips and take beach vacations, the war had changed everything. Many had loved ones serving overseas, defense workers were too busy producing ships and planes to take time off, gasoline was becoming increasingly hard to come by, and local citizens did not want to wear out their precious tires on unnecessary travel.
Fireworks Confusion
By July, 1954, the confusion about whether Kirkland's citizens had the right to shoot fireworks was blamed on "antiquated Kirkland ordinances." Some interpreted these to mean that the shooting of fireworks was allowed on July 4 but prohibited on any other day of the year, while others believed that county law prohibited shooting or sale of fireworks at any time, including July 4.
In 1958, a fireworks ban was enforced in the City of Kirkland as a result of a county ordinance regulating and prohibiting the sale, purchase and use of fireworks in King County.
And then there was the financial issue. In 1959, members of the Houghton Town Council passed an ordinance permitting the sale of fireworks in the Town of Houghton—an experiment which raised over $6,700 for the town coffers. But this came at a price. Houghton drew fire from the Kirkland City Council and Mayor Byron Baggaley for allowing the sale of fireworks while neighboring cities, including Kirkland, prohibited sale and use.
Over the next few decades the debate continued, and the fireworks ban was not always enforced. Today, the sale of fireworks, together with the possession, use and discharge of fireworks is unlawful within the City of Kirkland, and a permit is required to display fireworks.
Sources: The East Side Journal; The Book of the Year. Special Days and their Meanings, R. Brasch; Loita Hawkinson-KHS; historylink.org
This article appeared in the Kirkland Reporter on July 1, 2009
©2009-Irene Vlitos-Rowe