On the Ways to Victory:
The Lake Washington Shipyards
As I sip my café latte at Carillon Point's Starbucks, it's hard to believe that this peaceful lakeside spot was once the site of the bustling Lake Washington Shipyards (LWS). At the peak of its production during World War II, the LWS employed about 8,000 workers, repaired 477 war weary ships—ranging in size from tugboats to large transports—and built 29 warships for the US Navy. These were heady times for a small town that had a pre-war population of only about 2000.
But who were these workers, what was driving them, and why did this war become so personal? As I browsed through On the Ways (OTW)—a tri-monthly newsletter published by the LWS during the war years—a story began to emerge.
OTW's mission, which was Dedicated to all-out-offense to Win the War, and the editor's declared aim to weld the workforce into a big family working for victory, was ambitious. But it worked. OTW was both a company newsletter and an unabashed vehicle for wartime propaganda.
Today, this publication comes with a health warning, which is that history should always be viewed in the context of its times. Its pages transport the reader back to an era when the racist portrayal of an enemy was not questioned, the appointment of a woman to a management position was justified on the basis that "a pretty lady officer would add quite a bit of good luck to the USS Orca," and an architect is hired to build homes for veterans because "he was one of the officials responsible for building a Japanese concentration camp … in the record time of ten days."
Battle of Production
Although the LWS was undertaking work for the US Navy two years before the US declaration of war, our story begins shortly after December 7, 1941—the date of the Japanese attack on Pearl Harbor.
<![if !vml]>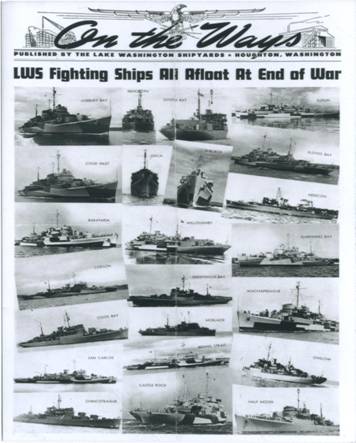 <![endif]><![if !vml]>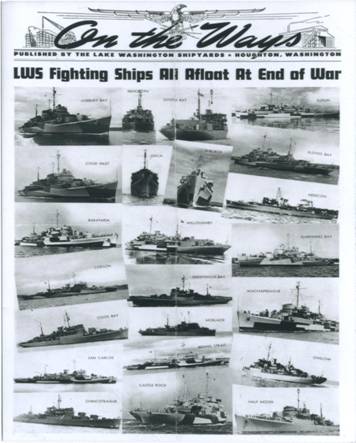 <![endif]><![if !vml]>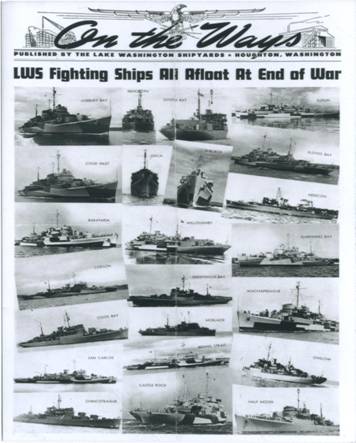 <![endif]>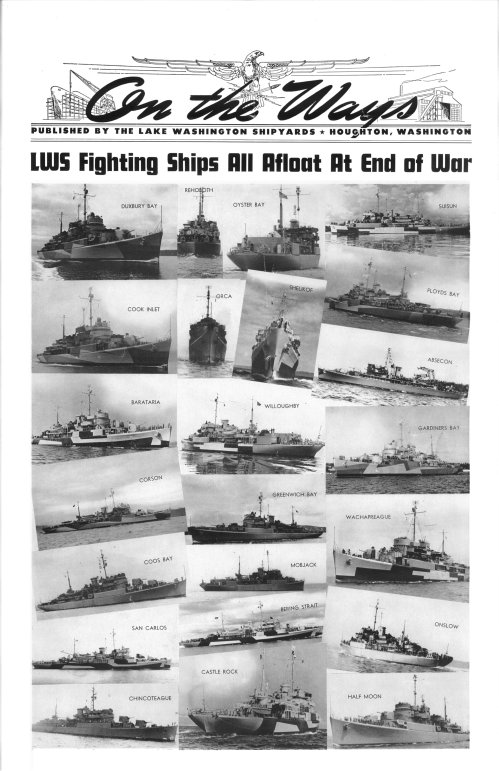 Suddenly the war was closer to home. There was now a palpable fear that the Japanese could strike again, this time on the mainland, and even possibly a naval shipyard. The Houghton facility was on alert.
In the meantime, the war still raged in Europe, and workers were constantly reminded about their enemies on two fronts through editorials, personal accounts of wartime experiences, pictures of emaciated and tortured prisoners of war, and cartoons.
In 1942, at the request of President Roosevelt, Donald M. Nelson, Chairman of the War Production Board, instituted a gigantic production drive in every shipyard, munitions factory and industry across America. The LWS met this challenge by establishing a joint Labor-Management Production Committee to direct this vital war effort in Houghton.
But, as more men were called into the armed services, LWS was faced with an acute labor problem. With the expanding program of ship construction for the US Navy, hundreds of additional workers were needed for the production line.
The Kirkland War Production Training Center urged men and women to enroll for classes in welding, sheet metal and electricity. Its OTC ad stated that women would be dispatched to the Yards with the same wages and privileges as men performing the same duties. This call to arms worked.
Women's Army Invades LWS
According to the November 24, 1942 OTW issue, a new phase in the LWS's battle of production had begun. A "platoon of well trained, serious minded" women had arrived, and within a week 60 women were performing sheet metal tasks. "We ask for no favors when we come to LWS," said one of the new recruits. "We are trained to do a man's work and we will do it as well as any man can."
More women were to follow, and for the next few years OTW showed its appreciation with a regular What They Did Before column. Some were local, like Miriam Madison, who had already completed one year of graduate work at Harvard Medical School. Some were from other states, such as Lola Trenton, a one- time hula dancer from Hawaii. She was also a telephone supervisor at Honolulu's Schoffield Barracks on that day of infamy—December 7.
Safety
Shipyard accidents continued to be a major concern for the duration of the war. Workers were constantly reminded of the need to be careful and vigilant, and were warned that any delay in war production work helped our enemies.
Women were told to wear bandanas, or caps completely covering their hair, for protection. Unfortunately, one woman refused to do so and her hair was caught in a revolving spindle. Before the machine could be stopped, nearly half of her hair and part of her scalp were pulled loose. As if this wasn't graphic enough, OTW provided a photograph of the machine, as it appeared immediately after the accident, with "A Warning to LWS Women."
By the end of the war, LWS could be proud of its achievements. It was one of the first shipyards in this area to start work on navy contracts, and its expert repair crews continued to overhaul an endless armada of ships throughout the war years. All of its fighting ships were still afloat at the end of the war. And, in its own way, OTW contributed to this success.
On the Ways is available on CD from KHS for $20. Please mail check, with your name and address to: KHS, 203 Market Street, Kirkland, WA 98033.
Sources: Kirkland Heritage Society; On the Ways1942-1945; WWII—The Big One, Alan Stein; historylink.org; the East Side Journal.
This article appeared in The Kirkland Reporter on February 18, 2009
©2009-Irene Vlitos-Rowe