What's in a name? A Neighborhood Primer
By Irene Vlitos-Rowe
Have you ever wondered how a place gets its name? Sometimes it's logical, such as Seattle (Chief Sealth), but often it's not. Take the Strait of Juan de Fuca. This was named after a Greek navigator who "discovered" the channel in 1592, and used a Spanish pseudonym in honor of his employer.
And then there's Mount Rainier, which was named in 1792 by Captain George Vancouver, an explorer and navigator serving in the British navy. As Vancouver states in his Record of Exploration, he "distinguished" a round snowy mountain by naming it after his friend Rear Admiral Rainier. It was just a coincidence that Rainier tied in so well with our local weather.
So what about the names in our neighborhoods? Here is a selected primer:
F is for Forbes Creek:after Dorr Forbes, a Civil war veteran, who moved to this area in the late1870s with his family. Forbes initially settled in the area around Forbes Lake, and then moved to Juanita. He built a dam on Juanita Creek and later a shingle mill. His wife, Eliza Forbes, was elected the first woman Justice of the Peace for King County in 1887 but lost the position in 1889 when Washington Territory became a state.
H is for Houghton:which was originally called Pleasant Bay (see below). Houghton was named after Mrs. Sarah Jane Houghton of Boston who donated a 615 pound bell to the First Church of Christ of Pleasant Bay in 1881.
H is also for Hunt's Point:after Leigh S.J. Hunt—a wealthy businessman who purchased the Seattle Post-Intelligencer in 1886, and sold the newspaper less than a decade later. Hunt was instrumental in persuading Peter Kirk to establish his steel mill on the East Side. Although the investors suffered heavy financial losses when this venture failed, Hunt is still credited with returning to the area a few years later to pay back his debts with interest.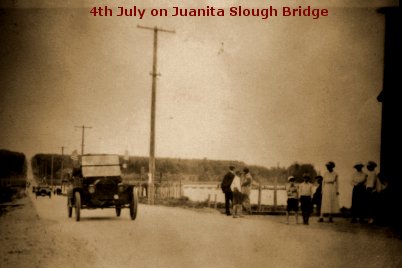 J is for Juanita:which was Juanita in the mid 1870s, changed to Hubbard in honor of a local resident— Martin W. Hubbard—and reverted to Juanita in 1886 at the suggestion of Mrs. Charles C. Terry of Seattle.
It is widely believed that this name derives from Juanita—a song with a catchy refrain (Nita! Juanita!) that was written by Caroline Elizabeth Sarah Norton in the mid nineteenth century. It was popular in the 1880s, and was recently recorded by Jim Reeves.
Anna Elaine Josten McKenna Collection.
July c. 1915 (2007-40-7-600)
M is for Moss Bay:formerly Nelson Bay after the Nelson family who had a homestead in the area. When John George Kellett, an engineer working with Peter Kirk, platted the new town site, he used many names from his English home town, which included Moss Bay.
P is for Pleasant Bay:which was the original name for Houghton. Pleasant Bay had to be changed to a one name community by order of the US Post Office. The name Edison was submitted first but, as it was already in use in Washington, the community opted for Houghton.
R is for Rose Hill:after John George Kellett's street address in England which, according to the 1881 census, was Rose Hill Lane.
Y is for Yarrow Point:inspired by Leigh S.J. Hunt's two favourite poems—Yarrow Visited and Yarrow Unvisited by William Wordsworth. As a land speculator, Hunt bought most of this peninsula in 1888 and named his own estate Yarrow—a name which was eventually applied to the whole area.
Sources:Kirkland Heritage Society;Our Foundering Fathers, Arline Ely;Edmond S. Meany,Vancouver's Discovery of Puget Sound; Yarrow, A Place, Jeanne I. Whiting;historylink.org.
A version of this article appeared in the Kirkland Reporter on October 8, 2008
©2008 - Irene Vlitos-Rowe