May 30th, 2012
COTY HOGUE
Concert sponsored by Laura Bradley-Pierucci, great-granddaughter of Kirkland Founder J. Montgomery Sears.  Laura lives in Italy but thanks to the internet, Kirkland now knows several of J. Montgomery and Sarah Choate Sears's family members.  Thank you Laura for your generosity.
Singing with banjo and guitar accompaniment Caty Hogue mixes traditional, contemporary and original songs, taking you on an Americana music journey. Caty's rendition of the traditional song 'Going to the West' charted #1 on the Folk-DJ radio charts this past summer. http://www.cotyhogue.com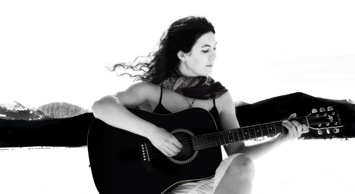 Coty's got something different in her. Maybe it's from growing up in a Montana town several orders of magnitude below "small;" maybe it comes from immersing herself in a folk music tradition that extends back for centuries. Whatever it is, you'd be hard-pressed to put your finger on it.
But when Coty picks up her banjo and lets her voice out, there it is. You'd think she's a pretty young gal, but her voice gives her away when she sings those fine old Appalachian songs. That voice, pitched low and steady, keeps raising chills. Then she'll apologize for playing too many sad songs in a row and launch into a fast-picking barnburner. Frequently accompanied by Aaron Guest (12-string guitar) and Kat Bula (fiddle), Coty's song selection runs the gamut of American roots music- a little blues, a pinch of swing, a spoonful of classic Opry.
Coty grew up with horses and big sky in Philipsburg, Montana- population just over 900. She left in the early half of the decade for an education in Bellingham, Washington. That sweet, subdued little city- long known for its thriving roots music community- became home. Over the next few years, Coty played all over town, traded songs with anyone she could find, and learned how to play any stringed instrument she could get her hands on.
In 2009, Coty packed up her bags and headed east to Boone, North Carolina, where she received Masters in Appalachian Studies. Along the way, she recorded an album, Going to the West, with frequent collaborator Aaron Guest; toured the West Coast; performed at the 2010 International Folk Alliance Conference, the Subdued Stringband Jamboree, and Seattle's historic Folklife Festival; and in 2011, will have her music featured in the independent film, Neon Sky.
If you get the chance to see Coty Hogue, don't miss it. It's a rare sort of performer who will keep you transfixed through several full sets of music. She'll burnish out-of-the-way gems and set them on fire again with her skilled interpretation. She'll sneak in tunes of her own composing that you'll swear you've heard before.
She's got the simple elegance and understated mastery of her craft that distinguishes much more established players, and it is this- a young voice flavored with the tannins of an old soul- that quietly sets her apart.