2017 Winner – Katherine Ryan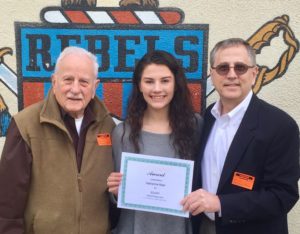 The Kirkland heritage Society is excited to announce the winner of its annual $2,000 scholarship is Katherine Ryan, a senior at Juanita High School, who entered the scholarship contest with her essay "Kirkland; My Destination, My Home."
Ryan has been active in high school soccer, track & field, student government, and involved in the local community through Honor Society.  She will be attending the University of  Washington in the fall to study communication and business.
Pictured:  Bob Neir, Katherine Ryan, Jim Neir
Read Katherine's Essay:
2016 Winner – Spencer Burmester
Read Spencer's winning essay:
2013 Winner – Anna Jessen
Click the link below to view Anna's program.
2012 Winner – Marin Harris
Former Kirkland Mayor Bob Neir, College bound Marin Harris and Jim Neir when she received her Christine Neir Scholarship after presenting her program at Heritage Hall.  Marin recorded an oral history with her grandmother Joann Harris who had lived in the historic Kellett home for most of her married life. The Kellett home is now owned by Marin's parents.
Click the link below to see Marin's program
2009 Winner – Katherine Ryan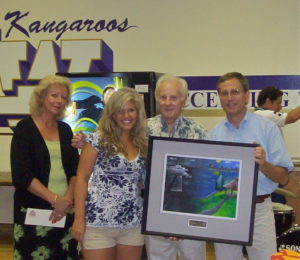 The Kirkland Heritage Society and the Neir family presented the Christine J. Neir Memorial Scholarship to Sarah Staeck, graduating senior at Lake Washington High School.
Staeck's painting is titled: "The Future is Bright," and reflects Kirkland Marina's past and present. She plans to attend WSU next fall.