Kirkland's Rich History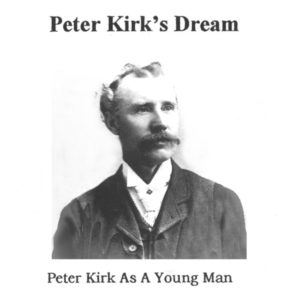 In 1890, Kirkland was becoming acclaimed throughout the nation as the "Pittsburgh of the West." Peter Kirk, a wealthy Englishman, established the town site which was to center around Kirk's Moss Bay Iron and Steel Works. But the financial panic in 1893 shattered that dream.
The legacies left behind when the dreams of the Kirkland Steel Mill failed are the sites of historic interest in the town of Kirkland – the original homesteads from the pre-Kirk days in the 1870's and 1880's, the brick business buildings built to house the subsidiary businesses that would come to the area because of the steel mill, the Victorian homes built for the steel mill executives and workers, and the Craftsman style bungalows built in the 1910's and 1920's.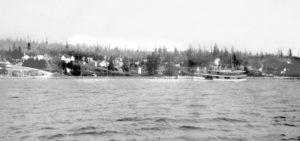 Despite the mill's closure, Kirkland incorporated in 1905 with a population of 400. The primary concern of the new City Council was the improvement of roads  and the Lake Washington shoreline.
The two most successful industries in Kirkand's early history were wool milling and ship building. The first wool mill in the State of Washington was established in Kirkland in 1892. It produced wool products for Alaska Gold Rush prospectors and for the U.S. Military during World War I.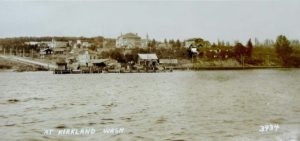 Kirkland's ship building industry began on the Lake Washington waterfront with the construction of ferries. For 20 years, most of the boats on Lake Washington were either built or repaired here. The 1917 opening of the ship canal also opened Lake Washington to ocean-going vessels. By 1940, Kirkland's Lake Washington Shipyard was building warships for the U.S. Navy; more than 25 were built during World War II on what is now Carillon Point.
For most of its history, the adjoining Town of Houghton was a separate community. By the 1960's, the interests of Houghton and Kirkland began to converge. In 1968, the citizens of Houghton elected to join with Kirkland to become one city.