Bob Havlik's History
 By Clarence L. Stone "Stoney"
January 09, 2010
I met with Bob Havlik in his home At Lake Ki, Arlington WA, just west of Smokey Point, Washington.
Bob was born in 1937 in Omaha Nebraska. His family moved here when he was 3-1/2 years old with Kirkland's population @ 1200 & Redmond @ 300. His dad  took a job building The Mercer Island Floating Bridge. When that was completed, his dad went to work in The Lake Washington Shipyards & WWII broke out in 1941.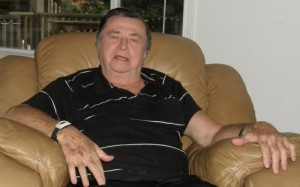 Their rental house was on 124th AVE NE,  (Virginia ST). They bought the first  home (2-1/2 acres) on 132nd AVE NE, ( N Newcastle) & NE100th. There wasn't inside plumbing & packed water from the well. It wasn't long before they did an addition, dug out basement put in a bathroom. They  farmed the land while both parents worked. His dad worked for Todd's Pacific and his mom worked for Lake Washington Ship Yards. The farm had 20 fruit trees, berries, corn and vegetables. They had chickens, milk cow, and canned most of their food before freezers.
In 1944 his dad got sick with a fever for 1 year. The kids all had to sell farm products and work on neighbors property to make ends meet. Dr. Taylor came to their home every day to give Bob's dad a shot. He went to a Naturopathic Doctor in Seattle and was cured.
The family moved to downtown Kirkland 1946 and bought a building with living quarters upstairs. The building used to be a tire retreading shop. Bobs dad made it into a 2nd hand store and fix-it-shop to make a living. They lived there a couple years and his father joined the Kirkland Police Department in 1947. He worked his way up to Sgt. under Chief Calm Reynolds.
Bob changed schools from Rose Hill Grade School to Central Grade School for 5th & 6th grades. Bob lost contact with many of his school friends, but made some new ones in Central School. 7th grade was at Lake Washington Junior High where he reunited with his ol' Rose Hill gang.
He met Walt Schneider owner, (Walt's Texaco Houghton) became good friends. Bob and Walt would go to Kirkland's Volunteer Fire Dept. and shoot pool and visit  with the guys. Bob and Walt would go down to the Kirkland Ferry Dock for it's arrival. They would dive for change people would throw off the ferries. The guys would call out, "penny, nickel, dime, get it every time", and dive into the water.
Bob started a paper route when he was 10yrs. old Roy Escott was the distributor for the eastside. He told Bob that he was to young, but Bob proved him wrong, as he carried 110 newspapers for 4-1/2 yrs. He also made extra money doing pruning and yard work.
Later on he went down to Wa-Me-Inn, (South Kirkland) on Saturday's to clean all the restaurant for $25.00. He always had jobs to make money, put some away, and give some to his mother. After his paper route he would clean the Arcade Bld. in Kirkland.
When he was 16 his dad told  him about a car at Hix-Plouden Pontiac. It was a Black 1939 Dodge 4dr sedan that Bob  paid $400.00 cash.
After high school, he went to work for Safeway and worked his way up to Produce Mgr. When he was 19, he had saved enough money to by his favorite car; a1956 Ford Crown Victoria.  It was sold to him by Danny Diever, Metke Motors in Bellevue,WA. When Bob first went into the dealership, he looked at Bob like he was a punk kid and tried to take him to the used car lot. Bob asked him how much money he needed down payment.  Bob went home and asked his mother for his savings book.  Bob paid cash for it. At this time,  Bob  was working out-of-town for the phone company in Oregon.
He bought a brand new Ford Ranchero for his 21st birthday. He transferred back to Kirkland and went back to work for Safeway.
Uncle Sam called him and said they wanted him to work for them for a while. He was drafted into The United States Army in 1960. He met his wife, MaryEllen, " southern girl" who also  was stationed  at Fort Worth, Texas. When discharged, they came back to Kirkland and bought a home.
Her father had an automotive radiator shop and Bob picked up the radiator trade from him. Bob opened his own business, in Kirkland. They had their 1st and 2nd  daughters right after that. They bought their first home from Bob's parents on the corner of 2nd ST and 8th AVE. In 1968 Bob and MaryEllen had triplet girls…They ended up with 5 girls that were 3 and under. They remodeled their home and put in a swimming pool. Bob moved the business to Bellevue for 6 years but came back to Kirkland. He bought his brother "Chuck," Havlik's  Radiator Shop in Totem Lake. His daughter and son-in-law bought it and run it today.  All his daughters went to LWHS and some of them had the same teachers that Bob had.
Bob and his wife sold and bought on Camano Island  and lived there for 4 years. They bought a Big Ford Truck and 35′ Fifth Wheel Trailer House and pulled it all over the US. They found a nice lot & house on Lake Ki. His first daughter was getting married at their place and there was a house fire the night before. It took MaryEllen's life. He has since rebuilt and is living there at this time. He has some medical issues he's dealing with at this time..