Kirkland in 1918
Transcripted from Stan Denton's father Harry's  hand written pages
Part of the Stan Denton collection January 2009.
The reliable ferry Lincoln was the principal transportation to Seattle from the foot of Kirkland Ave..  The blacktop road between Kirkland and Redmond was the only black top on the east side, and on a Sunday, cars would be lined up as far back as Green's funeral home.  The ferry made a round-trip every hour in the morning and evening.
There was a brick highway from Wayne Junction to Lake Forest Park.  From Lake Forest Park to Seattle, it was narrow two-lane blacktop.  The speed limit was 30 mph.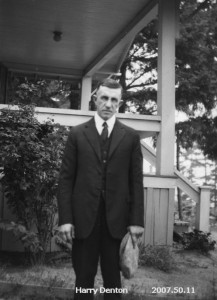 I was driving a tank truck for the standard oil Company out of Seattle, and it was a five ton Packard chain drive with solid tires.  In the winter time we had a hard time getting through.  I remember one afternoon I left Kirkland about 4 p.m. and got into Bothell at midnight.  There had been a freeze and after one, the roads would soften up and the heavy trucks would sink down.  We carried planks on top so we could make our own roads; there was no other way to get out as there were not any wreckers in those days.
The Road to Bellevue was a narrow road that I sometimes would drive around by Medina.
The bank in Kirkland was the only one outside of Redmond on the east side.  It was owned by Glenn Johnson, and Hugh Lambert was the cashier.  He had a Maxwell touring car and twice a week he drove to Midlakes,  Bellevue and Medina to pick up their deposits and take care of other banking business.
Bellevue's business district at that time consisted of Tom Daugherty's grocery store, Charlie LeWarren hardware with the post office, and Hanson brothers had a garage in an old barn on Main Street.  There was a grocery store at Medina.  At Midlakes, the Godseys had a grocery store and feed store.  Also a Mr. Walters had a grocery store and feed store.  There was also a grocery store at Wilburton run by Grover Naslund.
In Kirkland, Ed Williams had a grocery store where Halverson drugstore is now.  Ed Blair and Mike Chapman had a garage where the associated station is now.  Jimmy Robinson was the Ford dealer then his garage was in an old livey barn west of where the Enco gas station is now.  Ollis Patty was Jimmy's right-hand man. There was a bridge across the stream that was in front of where the Ben Franklin store is now located.
Jack ferry had a drugstore where Coleman's is now.  Manly Sessions had a grocery store; Claude Elwood bought him out.
The standard oil Company constructed a distribution station in Houghton, and opened it up in September of 1917, and Max Mitchell and myself was sent from Seattle to operate it.  I moved my family here in September of 1917.
In the last of October 1917, they started to make a highway along the waterfront and it got so bad we had to go back to horses.  They still had several horse teams in Seattle so they sent two teams and a tank wagon and freight wagon.  We made Woodinville and Bothell with teams for a while.
There was a grocery store at Houghton operated by a Mr. Dowd (sp) and the Houghton post office was in the store.
They started paving the road to Bellevue from Kirkland in 1918, and we sent our horses back to Seattle in the spring and went back to trucks, which was a relief.
Market street was paved in 1919.
They started building wooden boats at the Lake Washington ship yards during the WW1.  It was a small plant then but they built a lot of wooden ships.
A Mr. Brooks was the pioneer grocery man in Kirkland.  His store was on market Street it is now Oban's Hatchery.
In 1919 a Grocertia opened up at 7th and  Market.  It is now remodeled and is the Art Center ??  It was quite a novel way than to sell groceries.  The Grocertia was operated by a Mr. Bean and wife.
There was a grocery store in Juanita  owned and operated by Harry Langdon, who came there with his parents when he was seven years old,   They moved over there via a scowl from Madison Park.
There was a wooden Trestle from Juanita south toward Kirkland and it had a lot of loose planks that rattled when a heavy truck went over it.  The county finally barred heavy trucks from using it.  To get to Juanita then you had to go via Slater Street.
The telephone company was called the Lake Washington telephone company, Dave Burr was a manager.
Burke and Farrar real estate office was on the corner of Kirkland Ave. and Lake Drive.
Another real pioneer was Mr. Collins, who was a real estate man, his office was where the Ferguson real estate and insurance moved out of it, it was the last building on the west side of Lake Street to central way.
Jimmy Robinson build a new building for his Ford agency where the standard station is now located.
Where the City Hall is now located it was a swamp with lots of cattails.