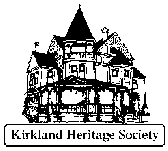 PAST ACTIVITIES AND PICTURES
Kirkland Heritage Society
Previous Events and Gatherings
(Link to Up Coming Meetings and Events)
May
MAY 25 - Joseph Earl Regan World War II American Ex-Prisoner of War, Joe a Kirkland
resident will unfold his story. Joe gave a very intense and exciting presentation of his service and captivity during WWII plus his release when General Patton's troops freed many prisoners in this camp. KHS honored all our service men of WWII including the home front at this meeting. Pictures of the evening.
April
April 27 The Pink Toe Truck Pictures of an evening with Ed Lincoln and and the "Pink Toe Truck" of Lincoln Towing. The Lincoln Toe Truck served as the corporate symbol of Lincoln Towing Company. Built nearly 25 years ago, the Toe Truck became a local landmark for millions of motorists during the more than two decades it was displayed outside the Lincoln Towing yard at Fairview Avenue North and Mercer Street.
March
March 24 Woman's Club City Landmark Public hearing - The Rescheduled Woman's Club/Kirkland City Landmark Nomination /King County Landmarks Commission evening was held March 24, on Thursday at 7 p.m. at The Woman's Club located at 407 First Street. (The February meeting was cancelled because of snow)
January
January 26 - Pictures of Kalakala Ferry Update - Steve Rodrigues brought KHE up to date on his 13,000 + mile trip across our country from Olympia Washington to Washington D.C. making the trip to bring awareness of the Kalakala's status of a National Treasure. The Kalakala is the world's first streamline ferry built on Lake Washington and served on Puget Sound.
2010
December
November
No Meeting - Thanksgiving

November 27 Pictures of Kirkland Tree Lighting and KHS booth with Matt's new Book introduction
October
October 27 Pictures of The Murder of James M. Colman, Mercer Island 1886. Our own cold case historian Tom Hitzroth revisited the murder - Mr. Colman and Mr. Patten were on their to Seattle on February 8th, 1886 but never arrived. They were murdered.
September
September 29 Pictures of Family History Workshop by Loita Hawkinson - Loita showed how you can find your local family names and dates in Washington State with a live presentation taking questions from the Audience. Many Washington birth, death and marriage records are available online. Examples were who married your parents or yourselves and who witnessed the wedding and see the actual signatures Frontier Justice had legal records dating back to the territorial days.
August
August 25 Pictures of the 2010 KHS Blackberry Social

August 28 Pictures of the KHS Table and First Every Norkirk Highlands Neighborhood Picnic
July
June
June
May
May 26 Houghton Mover and Shaker John Cort. He started out as a vaudeville actor and ran a chain of theaters throughout the western United States, including the Moore Theater in Seattle. Also he was one of the founders of the Fraternal Order of the Eagles to provide support for actors. He is well known in New York City and the Cort Theatre is on the National Register. Loita Hawkinson took us through the research which started from an oral history with a mention of Houghton's Cort Road.
April
April 28 Lee Johnson Little League Nite -- Pictures of the Evening -- In1951 LeRoy E. Johnson was instrumental in bringing Little League baseball to Kirkland, the first in Western Washington. Lee Johnson, Jr. learning from his father further expanded on his father's dreams of Little League in Kirkland. Lee's sons Brett and Tod Johnson shared with us their grandfather and father's journey with the little league. The sculpture of a young ball player at Peter Kirk Park in Kirkland was donated by the Johnson family in 2001 to celebrate fifty years of Little League.
March
March 30 KHS hosted the monthly meeting of AKCHO members 9:30am - 11:30am

March 31 Pictures of Kiwanis Nite at KHS -- Dick Shinstrom, past president of the Kirkland Kiwanis (1958) shared the history and stories of the Kirkland Kiwanis.
February
February 21 Pictures and Clips of Party Honoring the Dr, Mckibbens for their 73 years of doctoring in the Kirkland community See the Kirkland Reporter for details Heritage Hall 2pm -5pm with picture taking at 3pm. We especially would like to invite anyone who was a patient or was delivered by the Mckibbens.
January
2009
December
November
October
September
September 30 - 4Culture and Book-It Repetory Theatre partnered to dramatize Two Wheels North the captivating true story of two youg men who rode their bicycles from Santa Rosa, California, to the Alaska-Yukon-Pacific Exposition in the fall of 1909.
August
August 26th - Pictures of the Annual Blackberry Sundae Social - Ice Cream, blackberries, cookies and good friends. What more could you want?
July
July 17-19th Kirkland Uncorked - Pictures of KHS -Booth - Festival -Lady Washington -Legends Car show

4th July Parade and KHS Pictures Including the table the vintage cars and other fun stuff
May 2009
May 27th - "Photo I.D. Night" - Once a year favorite! Help with identifying the growing photo collections of historic Kirkland people, places & things!

May 28th - Juanita Elementary School Heritage Nite pictures
April 2009
March 2009
February 2009
February 25th - "The Complete History of Lake Washington " - presented by Chip and Joan Davidson Historical documentary & powerpoint presentation encompassing geology, government limitations & political conflicts, pioneers…. Chip had something for everyone's interest! Pictures of the Evening.
January 2009
2008
December 2008
November 2008 - No Program Thanksgiving
October 2008
October 29th - Ghosts of our Past: Live online internet research sources were displayed on screen by KHS members Loita and Dale Hawkinson. The only requirements for accessing these free resources are the Seattle and King County Library cards and a high speed internet connection. See pictures of the evening and research notes.
September 2008
August 2008
August 27th - Heritage Park Celebration for the Centennial Garden & Kirkland Rotary Garden Arbor Dedication Followed by the annual Blackberry Sundae Social - A brief ceremony started at 6:30 PM to present the recent addition of the Centennial Garden by Kirkland Parks and Community Services and Kirkland Rotary Garden Arbor.
July 2008
July 4th Parade - Pictures of KHS Tables, Volunteers, Cars and highlights

July 30th Potluck Picnic at Heritage Hall - 7:00 PM until sunset everyone shared their favorite potluck dish. Many of the recipes were from Kirkland's many recipe books published by service clubs, churches and schools. Click here for Pictures of the evening.
June 2008
May 2008
May 28th - Norm Blye, Bellevue Ferry Tales with a presentation of slides Norm and His wife Esther presented a slide show and share ferry tales about east side ferry life before there were bridges. Washington native, Mr. Blye was born in 1918 at home on Main Street of Bellevue. His father worked on the ferries and Captain John Anderson was a friend and neighbor. Click here for Pictures of the evening with Norm and Esther.
April 2008
March 2008
February 2008
February 27th - Identifying Photographs Night ! Over 30 people attended and went through over 1,600 photographs and identified about 200 of them! These photographs will now be scanned and the information placed into the PastPerfect database. Lots of comments that "This was really fun!" Not only fun but also very useful in identifying our history and those who helped shape Kirkland. Everyone appreciated the carrot cake for Vic Newhard's birthday!
January 2008
January 30th -The Murder of James M. Coleman, Mercer Island, 1886 -Guest Speaker Tom Hitzroth with Megan Carlisle, Archivist, Eastside Heritage Center, introduced the Colman Diaries and their significance to the history of the Eastside and pioneer living in the latter part of the 19th Century. James M. Colman and his friend Wilbur Patten were on their way to Seattle on the morning of February 8, 1886. Patten was going home and Colman was on his way to Court to settle a dispute with George Miller of Bellevue (Beaux Arts) over a land acquisition. Colman was ambushed at the south end of Mercer Island that morning so he never made it to court. This is an ongoing research effort by Tom and he has made previous presentations to the Eastside Heritage Center and Redmond Historical Society. Even with this information there is considerable analysis that needs to be done before he can reach conclusions on the murder of James Colman.
2007
December 2007
November 2007
October 2007
October 24th – Joe Follansbee, Author, Shipbuilders, Sea Captains and Fishermen: The Story of the Schooner Wawona -Joe Follansbee made the presentation with numerous historic photographs collected for the book. This book won the Virginia Marie Folkins Award presented by the Association of King County Historical Organizations.. The Wawona was moored on the Kirkland waterfront in the mid 70's.
September 2007
September 22th – KHS setup a display at this years Golden Grads gathering held in the Lake Washington High School. Noted is the Life Magazine feature of the 1955 class all night party.

September 26th – How to make your new home look old -We toured this year's home and got tips to achieve the "look"

The house was built in 2000. It is a faithful copy of a traditional Seattle Foursquare. The home was furnished with the furniture, lighting, textiles, pottery, art and other decorative items from the period. This "Retro-Restoration" was explained with a presentation about the Arts & Crafts period, t

he collections, and all of the changes made in the past 3 years along with future projects.
August 2007
July 2007
June 2007
May 2007
May 30th – Legends & Lyrics of Northwest Woman Folklorist-Professional-Extraordinaire, Maggie Bennett shared her stories and songs of pioneer woman. Pictures of the evening along with 2 donations to KHS
April 2007
April 25th – Genealogy – Discover the Secrets Guest Speaker - Sarah Fleming -History put the meat on the bones of our ancestors. Sarah Fleming, who has been doing genealogical research for over 35 years, covered the importance of history to genealogy, as well as some basics of research, local resources, and online resources. Here are some pictures of this evening.
March 2007
February 2007
January 2007
January 31st – Historic Preservation Pictures Julie Koler, Manager, King County Historic Preservation Program. Julie talked about historic preservation programs in Kirkland through our Inter-Local Agreement with King County She discussed the incentives available for historic properties that have landmark status and answered questions about specific histororic properties in Kirkland.

Our first KHS meeting of the new year featured information on new collections, recent exciting finds in our research materials, update on our efforts to establish our database; and displays on historic buildings in Kirkland.
2006
December 2006
December 3rd - Pictures of KHS's Annual Christmas Cookie Exchange at Frank Rosin's home in Juanita. Frank's home is not historic, but the contents are. Frank is a long term native of the area shared his many years of collecting Kirkland history.
October 2006
September 2006
September 27th - What's Cooking and all that Antique Kitchen Stuff. All shared old cookbooks, great-grandma's favorite recipes, antique kitchen gadgets, pots, kitchen linens, and other nifty old gizmos. Julie Devine won the door prize. See the pictures of this fun night with lots of hissing and booing about the uses for the odd gadgets.
August 2006
August 30 – Pictures of the Annual Blackberry Sundae Social.

August 30 - Pictures of Heritage Park Dedication
July 2006
July 14, 15 and 16 – Summerfest
KHS had a booth at Summerfest which was sponsored by the Kirkland Art Center. We were very happy with the large number of people visiting our booth and the volunteers who made this happen. This maybe the last time that the Kirkland Art Center will sponsor this event.
June 2006
June 28 Meeting - Help Identify KHS Photographs
The City donated to KHS a lot of photographs from the East Side Journal that had been given to them by Chuck Morgan. – We now have many more photos that have been identified as to events and people and we are in the process of scanning the digital images and making a database so all can lookup the Kirkland past.

David Cantrill reported on the Second Kirk Family Reunion that was held in Friday Harbor this last weekend!
`
May 2006
May 20 and 21 *** DATES CANCELLED *** Kirkland Heritage Days - Will be rescheduled later in the year.

May 31st 2006 - SOUNDS YOU ONCE HEARD

Radio Sound effects hosted by Frank Rosin.

Ahough the things being shown at the May meeting did not originate in Kirkland , they were listened to every day by everyone living here, and right in their own homes.

April 2006
March 2006
March 29th 2006 - Antique Tiles and the 202 Waverly House Story

The Story of Dan and Sue Cone family and the salvaging of their home. Stories of the special fireplace and its new life and also the last-minute historical discovery related to the Peter Kirk Kirkland Mansion. Additional special guests included arts and crafts enthusiasts Ken Nelson and Jessica Greenway alone with their friend Ron Endlich, an antique tile expert from Seattle. Our own KHS members Shannon Harris, Lynette Friberg Weber and David Cantrill explained their roll in uncovering the secrets of this old house.
February 2006
February 22nd Wednesday, Monthly Program at Heritage Hall, Peter Kirk's Birthday.
February Special Exhibit to honor Peter Kirk in the Lobby of City Hall.
January 2006
JANUARY 25th Wednesday at 7:00 pm, Heritage Hall Meeting WHAT'S IT WORTH? Doug Davis, antique appraiser gave estimates of the audience's collectibles and family treasures. Doug's specialties were furniture (small), toys and glass!
2005
December 2005
December 11th Sunday 2:00-4:00 PM - Pictures of the Annual Holiday House and Cookie Exchange at the Historic Harris House 526 10th Ave West.

December 16th 2005 - January 31st 2006- Antique Toy Exhibit at the Kirkland Library Lobby Showcase
November 2005
October 2005
OCTOBER 12TH -Kirkland's 100th Birthday Party at Peter Kirk Park

OCTOBER 26TH -Bob Neir, former Kirkland Mayor and Author of "A City Comes of Age" was present to sign books. Also it was the annual "share your Halloween Stories" night. Click to see the circle of story tellers.
September 2005
August 2005
AUGUST 31 -Pictures of the KHS Annual Blackberry Ice Cream Social

AUGUST 12-14 -Kirk and Founders Family Reunion.
July 2005
JULY 8-10: -Centennial Summerfest Sponsored by Kirkland Arts Center. Pictures of our volunteers and booth.

JULY 4 -Centennial Fourth of July Parade, Picnic, & Fireworks. Pictures of a spectacular show for this special Centennial Celebration.
June 2005
May 2005
Show and Share Your Kirkland History Odds & Ends/Bits & Pieces. KHS Shared some of our recent wonderful donations. Election of Board Members: President, Secretary and At-Large Position. Board / Committee Chairs met at 5:30 pm at Heritage Center
April 2005
April 27th - Pictures of Gathering of Folks With Some Wonderful Stories!

Helen Schoen JoAnn Harris Meredith Gaskgill Jerry Rutherford Chuck Morgan Bev Hoerline
There were may others others too with stories with untold stories. There must be future meetings with more open agendas to get these memories recorded and remembered..

March 2005
February 2005
January 2005
January 26th -Pictures of the meeting and items that will be part of the Centennial 100 years of Kirkland History Display at Heritage Hall during the month of February.
December 2004
December 5th -KHS Annual House Tour and Christmas Cookie Exchange. Pictures of Barb Loomis' historic home and guests.
November 2004
October 2004
October 27th Kirkland Ghost Stories Meeting.

1926 Murder of Kirklander Letitia Whitehall - A New Look at the Facts and Historical Records Surrounding the Case.

Speaker: Tom Hitzroth, historical reseacher and experienced investigator, shared his recent findings.
September 2004
August 2004
July 2004
July No meeting. Kirkland's Summerfest July 10th and 11th.

4th of July Parade pictures
June 2004
June 30th Refinishing Antique Furniture Norkirk neighborhood businessman, Jan Zoltowski, from Old World Antique Restoration, gave a presentation on restoration and refinishing of antique furniture.
May 2004
April 2004
March 2004
February 2004
January 2004
JANUARY 28TH AT HERITAGE HALL - COINS AND CURRENCY

Our January program was very interesting , Richard Holbrook, owner of J & J Collectibles in Bellevue was the guest speaker. His interest included much more than coins and he had many stories about the treasures that found a way to his shop.
2003
December 2003
November 2003
October 29th 2003
September 2003
September 24th - KHS members, Loita and Dale Hawkinson shared their ideas on sorting and sharing family pictures and negatives with family by making CDROMS, DVDs or VCR's. All Without spending a lot of money.
August 2003
July 2003
June 2003
May 2003
May 28th Wednesday meeting Guest speaker was Christine Bergman -Peter Kirk's Great, Great Granddaughter. Christine and Jim shared many Kirk family heirlooms.
April 2003
March 2003
February 2003
January 2003
January 29th - Old phonographs and records by David Lundin

was cancelled and a normal meeting was held to bring everyone up to date on Founder's week events.

.
2002
December 2002
NOVEMBER 2002
OCTOBER 2002
SEPTEMBER 2002
AUGUST 2002
JULY 2002
No monthly meeting.

Kirkland SummerFest booth was very productive. Thanks to all who helped. Here are the pictures

Kirkland 4th of July Parade Pictures
JUNE 2002
MAY 2002
APRIL 2002
Wednesday, April 24th meeting. Board and committee met at 6:00PM

Kirkland Cemetery Tour, April 27th, Saturday 3:00 P.M.
MARCH 2002
February 2002
JANUARY 2002
Wednesday, January 30th meeting
WestWater Design Presentation

Alan Granger, GGLO, Architects, presented for WestWater Real Estate the design for building proposed for the vacant site at the corner of 7th Avenue West and Market Street. This is an important site historically since it completes the fourth corner of the intersection where the Peter Kirk Building, Sears Building and Campbell Building are located. It is also adjacent to the Brooks Building.

Wilkeson Stone Presentation
David Knoblach gave a very upbeat and informative talk about the

local Wilkeson Stone quarry and its history along with pictures !
2001
DECEMBER 2001
OCTOBER 2001
SEPTEMBER 2001
Taste! Kirkland Booth pictures September 15th and 16th

Wednesday, September 26th meeting.

Pictures of Jerry Rutherford's Talk. Jerry, a long-term Juanita resident, shared her heart-warming experiences in the community since the 1940's. She is currently on the King County Library circuit making her presentation throughout the Eastside.
AUGUST 2001
JULY 2001
JUNE 2001
MAY 2001
APRIL 2001
March 2001
FEBRUARY 2001
JANUARY 2001
2000